There's Nothing Like...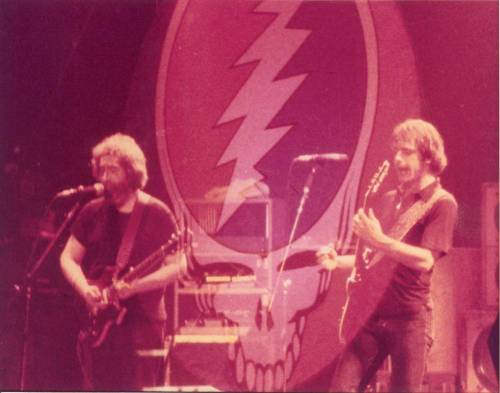 A Grateful Dead Concert!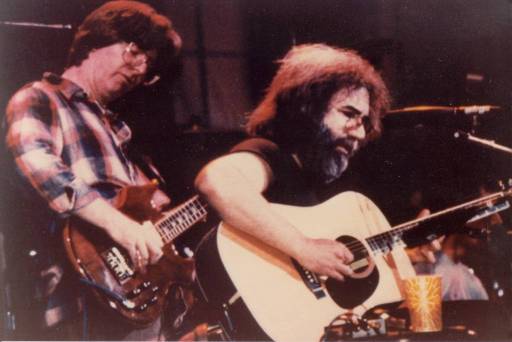 Although there are millions of Dead Heads with billions of concerts behind them, I have had the pleasure of experiencing the Grateful Dead but once. Yet, that one four hour event is still with me now -- over thirty-five years later.

Jerry in the Zone
...note the smile and his eyes rolled up in his eyelids. Sail away.

Set One Pictures, taken from further away:
Page 1 of 1

Set Two Pictures, taken from up close:
Page 1 of 3
Page 2 of 3
Page 3 of 3


Play List Set One: Start 20:02
Shakedown Street
Bertha
New Minglewood Blues
Friend of the Devil
El Paso
Tennessee Jed
Me and My Uncle
Feel Like A Stranger
Bird Song
Let It Grow
Deal

Intermission from 21:47 to 22:25

Play List Set Two: Start 22:25
Man Smart/Woman Smarter
Sugaree
Lost Sailor
Saint of Circumstance
Eyes of the World
Drums [Drum solo played with the hanging drums.]
Truckin'
The Other One
Wharf Rat
One More Saturday Night

Encore: Casey Jones [Picture #s 31-33.]

End 0:15

Click here for the Grateful Dead's remembrance of the evening.

Click here for a British blogger's recounting of his own adventure to this very concert!

---

On to: Introduction | Culture Stuff | Music Stuff | Glossary | Psychopathy
>Go Back to the Ticket Page<

---

Only the text on this page of the website "http://www.syntheory.com" and the last appearing photograph are copyright © 2004
by Ken Windish. All rights reserved.