On to: Introduction | Culture Stuff | Music Stuff | Glossary | Psychopathy
>Go Back to the Ticket Page<
Ted Nugent Live!!!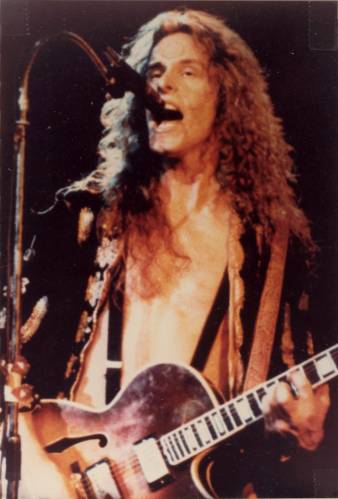 "Thankyouthankyouthankyouthankyouthankyouthankyouthankyouthankyou!"
He gets all that out in about a half a second! The concert was powerful. I was so hyped to get to my seat, that I blew right by the guy taking the tickets. My friend (who, with my camera, took many of the pictures posted here) had to yell out to me several times before I turned around and realized what I had done! So, I went back to let the guy give the ticket a little tear and off we went for the eighth row!

Although I had one of the best seats ever to see a concert from, the fact that my camera was at the end of its life really made the pictures a bit disappointing. First, I used 400 ASA film which made the pictures come out quite bright. Then between the regular and telephoto settings of the old 110 camera, they turned out a bit grainy. I tried my best to "fix" the pictures with photo editing software, but didn't have as much success as I had hoped. On top of everything, the mechanism which moves the film along to the next frame broke, allowing the last few pictures to be multiple exposures! Still, I will share the photos since they are, after all, pictures of "the Nuge"!

The man knows how to throw a party....once he gets there, at least! I don't know the details of what happened that evening, but the show started an hour and a half late. Set to start at 8 pm, the opening act didn't hit the stage until 9:30. They were a German band named, "Red Baron". I even took some pictures of them. Finally, like the Led Zeppelin photos, I had to include a good one of Ted (above), so you can see what he looks like for real!
Opening Act 'Red Baron':
ON TO THE
TED NUGENT CONCERT
This page of the website "http://www.syntheory.com" is copyright © 2004
by Ken Windish. All rights reserved.
---