with questionable charges!

Finally, even smaller local groups can be guilty of not caring about their customers. For this point, I will use my local news broadcasts as examples. Even though the on-camera people may project an aire of sympathy and caring, it is directed to the general public -- not to individuals. What about when they are contacted through social media (ie, FaceBook and Twitter)? It's been my experience that the citizen is ignored more than he is responded to. I personally have seen only about a 25% response rate from my local FOX news broadcasters (and that's before writing this mildly critical section here). That's just the on-camera people; the ones behind the camera can more afford to be standoffish and never respond. Would it be too much to assign or even hire someone just to keep contact going with the individuals who together form their viewing public? Even a sociable intern would be acceptable.

However, I still watch FOX because their local competition for the 7 to 10 am time slot is way worse. For example, KTLA (channel 5 in LA) has shot themselves in the foot by hiring way too many (boring) males for their on camera positions. Let's face it people, all the news broadcasts cover pretty much the same stories; they just present them in different orders. So, it's the presentation which attracts viewers to the show. FOX (KTTV, channel 11 in LA) hires relatively young, attractive females for most of their on camera positions, while often being voted the number one news broadcast in Los Angeles. Coincidence? I don't think so. They wish to attract the group while not caring about the individuals who make up the group! [Side Dish on TV news and my viewing habits.]

Eat Right!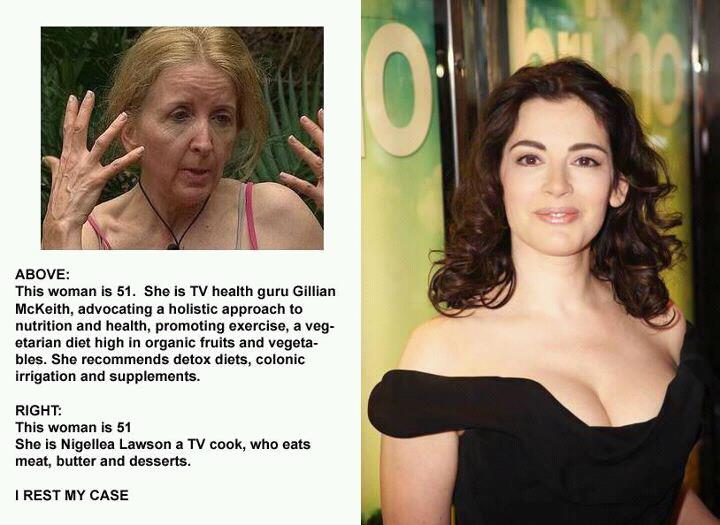 To be fair, I must point out that it looks like the creator of this picture made the left image darker so it accentuates the lines on her face, while making the right image brighter, diminishing them.

Clinically Proven? ...My Ass!
When you hear the claim that something is "clinically proven", that's a red flag for you to know that the person hasn't a clue about science and clinical trials, etc! Nothing is ever "proven", only demonstrated. Proven is just a made up marketing term used to increase your trust in a product; that's it. Clinical trials demonstrate an effect; they don't justify saying that it will happen every time, as "proven" implies.

Everybody Loves Robert
Every now and then things don't work out as planned. In the sitcom "Happy Days", for instance, the character of Fonzie was originally a very small part. He was just some local thug that Richie has a run in with. But its popularity grew to the point that Fonzie is the best remembered character from the show! Another such instance is found in the original series "Star Trek". It was planned that William Shatner would be the big star of the show. However, Leonard Nimoy's character of Mr. Spock grew in popularity to overshadow Shatner's Captain Kirk. Finally, in the sitcom "Everybody Loves Raymond", I believe the character of Robert is more memorable than that of Raymond.

Professionalism Personified!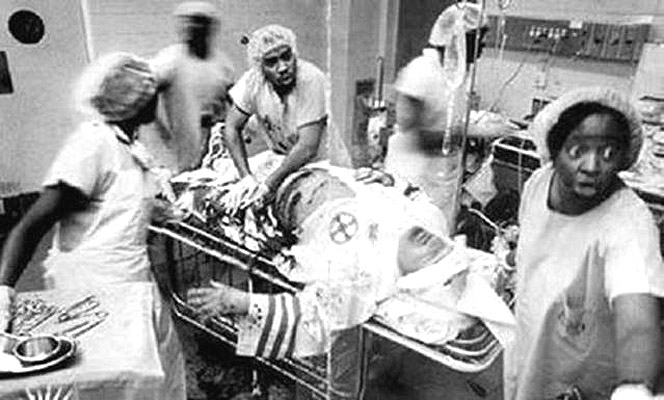 Incidentally, snopes.com has determined that this photo was a concocted hoax, but I like it anyway!

The Franco-American War
Have you ever known someone who seemed to be getting all of his or her news about world events from the monologues of late night TV shows such as (the former) The Tonight Show with Jay Leno or The Late Show with David Letterman? It astounds me that such people manage to get by each day. It's a regrettable reality today, that someone can live in the US for any good amount of time, and not know some basic things about its history and cultural icons. This was repeatedly demonstrated in the Tonight Show's recurring segment called "Jaywalking". Camera-shyness and stage fright explain some of these answers, but...! Being aware of the USA's cultural heritage seems to be getting less and less important to instill in our descendants. If so, I wonder where we're headed instead.
Sidedish: The American Dream and the Menace of Marketing.
Then again, I do believe that we as a society want our history to be passed on to the next generation, but something is interfering with the transmission. TV programs and commercials occupy more of childrens' time than history and civics lessons do in school. I feel that this differential frequency of input, and hence the balance of informational substance available for memcons, simply takes its expected toll. People naturally become much more familiar with the lyrics to the "Gilligan's Island" theme song, for instance, than they are with the social and political conditions present in Europe after the first world war -- which then led to a nasty bout with fascism.

Enculturation? ...NOT!
Here's an article about what can happen when immigrants fail to identify with their new dominant culture.
And another thing: Why don't we require immigrants to be able to pass the SAT in English after 5 or 10 years of residency or they get kicked back to where they came from?! We don't need a mass of uneducated people who can't even speak English populating this great country. Just think of the property values!